Conyers Farm, a prestigious community of large estates in backcountry Greenwich, Connecticut is the setting for this Shungle-style home. Designed by renowned architect Shope Reno Wharton, and built by Hobbs Inc. We were selected as the roofing contractor to install the roofing, flashing, and gutters.
This project was our first hands on involvement with a cold frame roof system. We worked closely with architect Allan Shope of Shope Reno Wharton to design and specify a cold frame roof that would be effective from a roofing and ventilation standpoint, and also be congruent with the architecture. When the budget permits a cold framed roof system is a great way to give a homeowner peace of mind with a belts and suspenders"" mindset. In a nutshell a cold frame roof is a roof built on top of a roof. While cold framing is a method more common in alpine regions it has proven to be a cost effective way to have the security of weather tight roof, while maintaining the free flow of air beneath the wood roof installation that is vital to the longevity of a wood roof.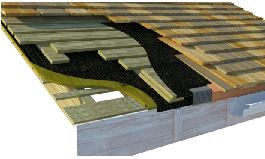 The roofing system began with the careful installation of Grace Ice & Water Shield® self-adhered roofing underlayment (a premier membrane composed of two waterproofing materials—an aggressive rubberized asphalt adhesive backed by a layer of high density cross laminated polyethylene). This product installed over the entire roof sheathing surface and carried up all roof penetrations. Thepurpose was to create a watertight sub-roof membrane.
Following the installation of the Grace Ice & Water we installed a cold framed roof system.  The purpose of a cold frame system is to create a roof that has proper ventilation while not being vulnerable to the pitfalls of ice damming. The first step we take when installing a cold frame system is to construct a ventilation system. We did this by installing a copper insect screen and a lead coated copper drip edging at the eaves and partnering the eave vents with a ridge vent.  Subsequently we installed pressure treated 2"x 4"sleepers over each roof rafter. After the sleepers we installed 1"x 3" spaced sheathing (also referred to as: "lath" or "battens".)
Roof mounted solid copper roof mounted shank and circle gutter hangers were then installed; spaced at approximately 24"and fastened with stainless steel screws.
All of the roof flashing components, the masonry thru-wall flashing and through to the flue flashing at the chimneys  were fabricated out of 20 oz. cold roll red copper. All copper flashing materials were fastened with copper nails.
The finished roof was comprised of CCA Pressure Treated #1 Perfections, 18 inches in length and installed at 5 ½" exposure. Because the property was within 15 miles of salt water, we fastened all of our roofing shingles with Type 316 stainless steel shingle nails.
The copper gutter and leader system was comprised of 6"half round gutter and 4"plain round leader.